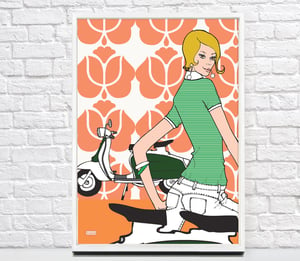 €

17.00
Questa e' un edizione speciale di poster tratti dalla prima serie di illustrazioni di Soulfulstyle.
Ultimi pezzi disponibili!
MISURE:50 cm x 70 cm
TECNICA:
Stampa digitale ad alta definizione su carta fotografica semi gloss Epson 200 gr, inchiostri Epson Durabright.
SPEDIZIONE:
Tutto il mondo.
Spedito con posta raccomandata,in imballaggio sicuro a tubo.
Nb.
Venduto senza cornice
Tutte le illustrazioni sono protette da copyright.
2007-2011 SOULFULSTYLE
This is a special edition poster from the first series of Soulfulstyle's original illustration.
Last pieces available !
SIZE:50 cm x 70 cm /19,7" x 27,5"
TECNIQUE:
Printed on Epson 200 gr. semi gloss photographic paper.
High Definition Digital Print using Epson Durabright inks.
SHIPPING:
Worldwide.
It will be sent through priority mail safely in a strong tube.
Nb.
Sold Unframed
All illustrations are copyright protected.
2007-2011 SOULFULSTYLE